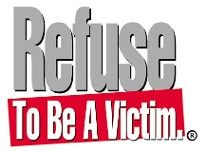 Refuse To Be A Victim® is a three to four hour crime prevention seminar, designed by the National Rifle Association, to provide common?sense information geared toward awareness and avoidance of criminal attack. Certified instructors help seminar participants better understand criminal thinking and provide tips on maximizing home, automobile, telephone, technological, and personal security. Participants learn unbiased information about carjacking prevention strategies; self?defense training options; and the use of devices such as pepper spray, mace and stun guns.
This safety awareness message has been presented in all 50 states and the District of Columbia.
Additionally, thousands of people have attended seminars and this is what they have to say about
the program:
"Everyone should consider the possibility of, and be prepared to defend themselves from a criminal attack. However, if they have not adopted the proven personal safety routines recommended by Refuse To Be A Victim®, then they may have surrendered their option of refusing to be a victim of crime." Patrick Harris, Executive Director of the Virginia Crime Prevention Association
As a Refuse To Be A Victim® certified instructor, I will assist you or others interested in organizing a public or private seminar in your community, at your organization, or at your place of business. If you should have any questions about Refuse To Be A Victim®, please contact me at 937-787-4414 or email I look forward to working with you in the future.
Remember to stay alert and stay safe!
The RTBAV is a seminar it lasts about 3-4 hours.
We present over 40 ideas on making your life safer.
Everything we cover is in the student handbook, which is your's to keep.

.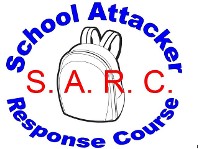 In light of the tragic events in some of the nations schools, the School Attacker Response Course (SARC) was developed by Rob Pincus of I.C.E. Training. The program focuses on what can be done by teachers and students in the opening seconds of sometype of armed attack on the school.
This course is no charge to schools, churches, retirement centers, etc.
It is critical that people know what to do to prevent injuries and death in those minutes before law enforcement or armed security arrives.
Our team of certified instructors can come to your facility at no charge to share this life saving seminar at no charge.
Length of seminar is 2-3 hours